Original publication date: 14 September 2017
"The shortest scheduled passenger flight in the world"
Not a fan of long hours in Economy Class? Then this is the flight for you.
At just 2.7km in distance, and clocking in at under 2 minutes, there is a flight between two Scottish islands in the Orkney archipelago which holds the honour of being the shortest of its kind in the world. And I happen to work with a guy who hails from the region.
Orkney residents don't usually expect people outside of the UK to know of the island chain. So when Michael recently joined my office, he was pleasantly surprised that I was aware of it.
It turns out that Michael's father – a surveyor - has flown on numerous routes within the Orkneys over the years, as it happens to be the easiest form of inter-island transport. "He told me that from Mainland – the largest island – to Westray, it's a choice between a 15-minute flight or a 120-minute ferry trip. Surveyors usually took the plane!"
Stark geography and unique climatic conditions have shaped how the island chain provides essential services to its outer isles. Due to a notable absence of trees, the region experiences strong winds and complex tidal currents called 'roosts'. Add to this many rugged coastlines and cliffs, and the development of scheduled flight routes was inevitable, beginning in 1967.
Thus, Michael's father notes, the super-short route is a product of common sense, as much as necessity for the smaller island's population of 90 ("The plane lands on Westray and it would be silly not to drop in past Papa while it's next door").
Despite its size, Papa Westray (approx. 9km2) is full of archaeological treasures and is a notable historical site – home to the Knap of Howar, a Neolithic farmstead that is said to be the oldest preserved house in northern Europe, dating back to 3500 B.C.E. So it is common for local school children to take field trips to the island to see its many stone ruins.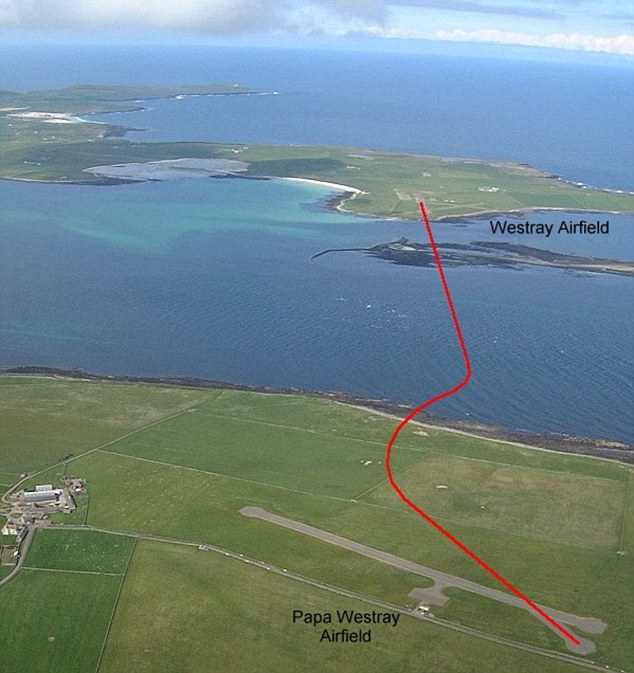 For a pilot flying such a short route (the same length as the runway at Edinburgh Airport), one could potentially complete hundreds if not thousands of flights over a career.
This was the case for Stuart Linklater, who retired in 2013 after racking up more than 12,000 flights over 24 years on the job. He also set the record for fastest flight at an impressive 52 seconds – however under ideal wind conditions, the hop between the two Westrays can apparently be as little as 47 seconds long from wheels up to wheels down. "The wind would definitely play a big role on each flight," says Michael. "The pilot who flew my dad was previously his maths teacher at school, and often speculated about taking different flight paths to use the tailwinds".
But what sort of aircraft would you getting aboard? Nowadays there are at least two flights every week day (one on Sunday) aboard a 10-seater Islander plane serviced by Scottish airline Loganair. The service begins from Kirkwall, the largest town on Mainland Orkney, and is in high demand during the summer months. You'll even get a certificate to prove it!

Tickets for the route are £21 return from Kirkwall and advance booking is essential. Just don't go expecting a full catering service though.