Dates of travel: 26 April 2013 to 28 April 2013
Location of travel: Los Angeles, United States of America
Original publication date: 13 July 2013
Over the course of April and May 2013, I took a month-long meander across the USA. The main reason was to attend and report on the Coachella Music Festival in Indio, California. The road to and from there was just as memorable. This is Part 1 in a series of 5 articles.
The Stranger, The Angel
Once Coachella was done and (lightly) dusted, I still had three weeks left before hopping on a plane in New York City to return to my homeland in South Africa. I have my family's long-time travel agent to thank for that; she said that if I stayed in the States for just under a month, I'd get a ridiculously-cheap deal for my inbound and outbound flights from the country. In between: it was up to me how and where I went.
As stated in my San Francisco post, I had the good fortune of having a place to stay for every leg of my trip, whether it was with friends or with 'connections'. You know, people tangentially known to you, but you can still count them on your side? Before my departure from South Africa, my intended route for my month-long meander had been mapped out, with a person known to me waiting in each city.
This was not the case in Los Angeles, and it continued to be right up until I packed my bags to leave San Fran. The budget hovered at zero; hotels were not an option. I had exhausted my list of whatever contacts I had built up in these 24 years of existence. With time running out, it was hard to think logically about where I could be sleeping for the next few nights.
Breakthroughs can come from strange places. How about a friend of my father's who had emigrated from South Africa over a decade ago to start a church in the Los Angeles area?
The word had been put out through the congregation that I was in need of help. It arrived in the form of Chris, an incredibly kind and hospitable 20-something guy that offered me his couch in his small one-bedroom apartment in Brea. Even though it was at least an hour away from the Greyhound Bus Station in Downtown L.A., he also offered to fetch me on the Friday morning, after my overnight bus trip. Such generosity to a stranger is rare. No wonder they call it the 'City of Angels'.
Although accommodation was sorted, the battle of Los Angeles had only just begun. To put it quite simply: the city is gigantic - or more specifically, the county. It's an interesting bit of nomenclature: Los Angeles the city is actually quite modest in geographical size, but when you look at the greater L.A. metropolitan region, it sprawls out like roots from an giant redwood tree.
People often use the term 'L.A.' interchangeably, and it's deceptive. Chris' apartment in Brea wasn't just down the road from Hollywood; it was pretty much on the other side of this jungle, requiring at least three different forms of public transport to get there. And once I was in Tinseltown, my goal for the weekend could be put into action: see the major sights of Los Angeles from an open-top, hop-on-hop-off sightseeing bus over just two days.
The Suburbs
Before this imposing traveller's quest, I at least had a chance to rest up in suburbia on Friday afternoon and evening. Chris suggested an authentic Italian market and deli named Claro's for lunch. Think fresh Italian sausage, cheeses, pasta, tomatoes, and olives. The place was an ode to Italia, filled with varieties of groceries that I had never seen or heard of.
Evening-time saw me pay a visit to a Five Guys Burgers And Fries, home to presidential-approved burgers. This is known thanks to an NBC documentary of a typical day in the White House of Barack Obama's administration, where the president specially ordered from a Washington D.C. branch and went to pick up the burgers himself.
The bar was set rather high, but Five Guys delivered - even challenging the In-And-Out Burger I'd tried on the Coachella road trip. Not every fast food joint has to have overwhelming menu choices, or glitzy presentation. Five Guys and In-And-Out trade on simplicity and freshness, and even though the food is fast, it aims for restaurant-quality.
Saturday In L.A.
Although I was excited to be heading into another city, the task at hand - with all its many moving parts - seemed overwhelming.
For the first time on my trip, I was actually genuinely concerned about the amount of responsibility resting on my shoulders transport-wise, knowing that if I screwed up just one part, I could be stranded very far from home. But that butterflies-in-the-stomach feeling fueled my desire to explore. It's the adrenaline rush a politician must feel when they step up to the podium; a singer to the stage; a sportsperson to the field.
The journey from Brea involved a bus, an Amtrak train, and a subway, before I finally emerged from the Hollywood Highland station onto what felt like a movie set: the Hollywood Walk of Fame.
Starline Tours has 3 major routes that encompass the touristy parts of LA, and at the time, they were planning to roll out two more in May 2013:
The first route I went on, the Red route, comprised of the glitzy and glamourous Hollywood and Beverly Hills.
A transfer to the Yellow route was available in Beverly Hills, which takes you down through the beachfront city of Santa Monica to the Pacific Ocean and the famous Santa Monica Pier, before turning back inland and passing through the lavish Brentwood and Westwood.
Finally, the Purple route was within Downtown L.A. to the east of Hollywood, connected by a short transfer through Koreatown.
Wherever you are in the world: if you're in town for a very short amount of time and you need a superficial yet informative way of seeing a new place, I'd highly recommend a hop-on-hop-off tour. It ticks off so many places on a sightseeing to-do list, and because you can freely hop on and off busses, you can spend more time investigating a landmark on foot if you wish.
This is what I did almost straight away, as I began the Red route's run through Sunset Boulevard. One of the first stops was at Guitar Center, the world's largest musical instrument retailer. The branch on Sunset Boulevard was known for its size and its many famous clients.
It was staggering to see the variety of instruments on offer, and how many sections were devoted to each type (there's an entire floor devoted to drums!). Guitars adorned the walls, and acoustic - as well as vintage - instruments got their own shrines. Glancing at some of the price tags wasn't for the faint-hearted (spotted one guitar going for $24 000, yikes). As with any store of this stature, they've collected a sizeable amount of rock star memorabilia, including signed portraits, equipment, clothes and concert tickets.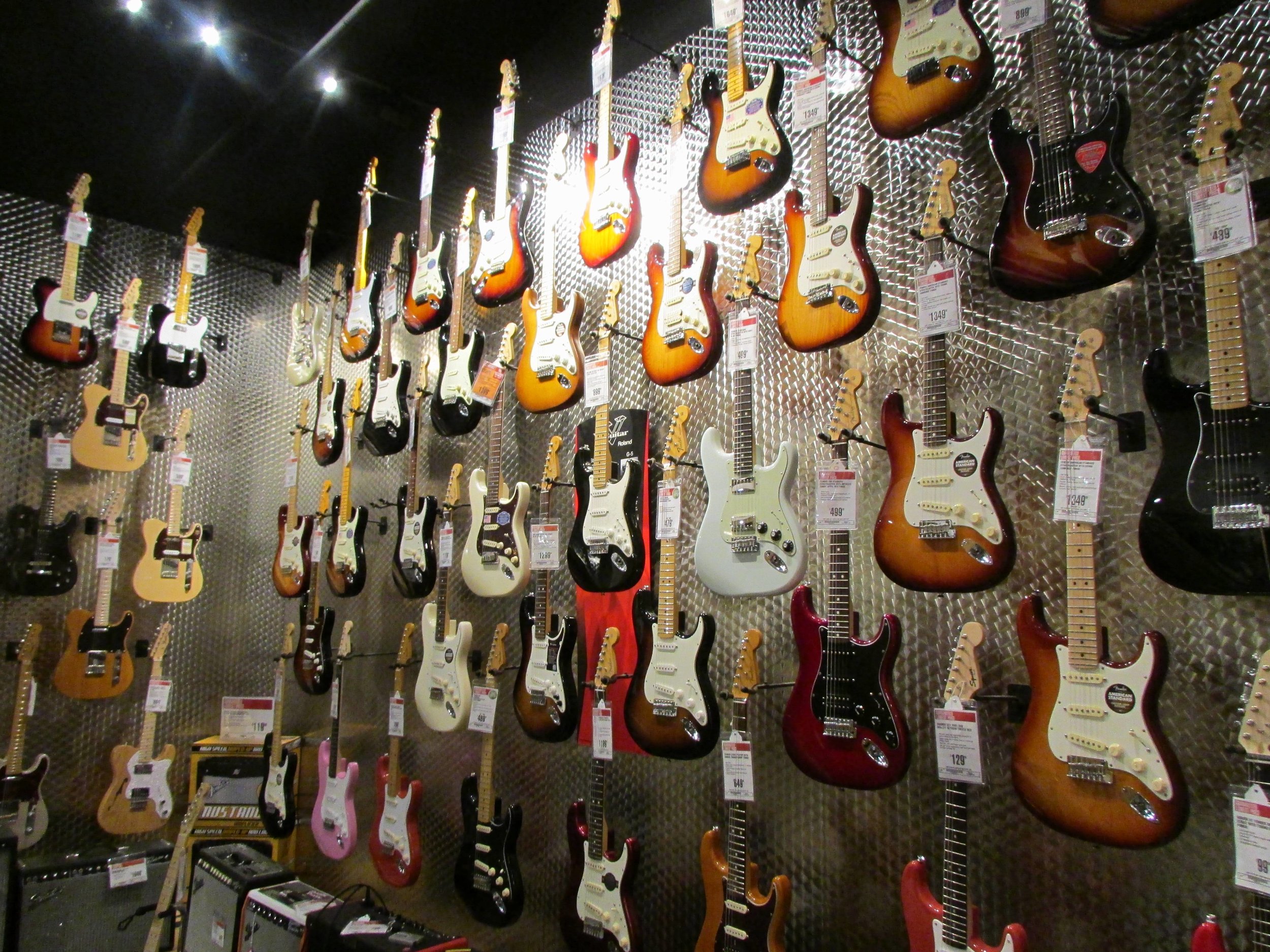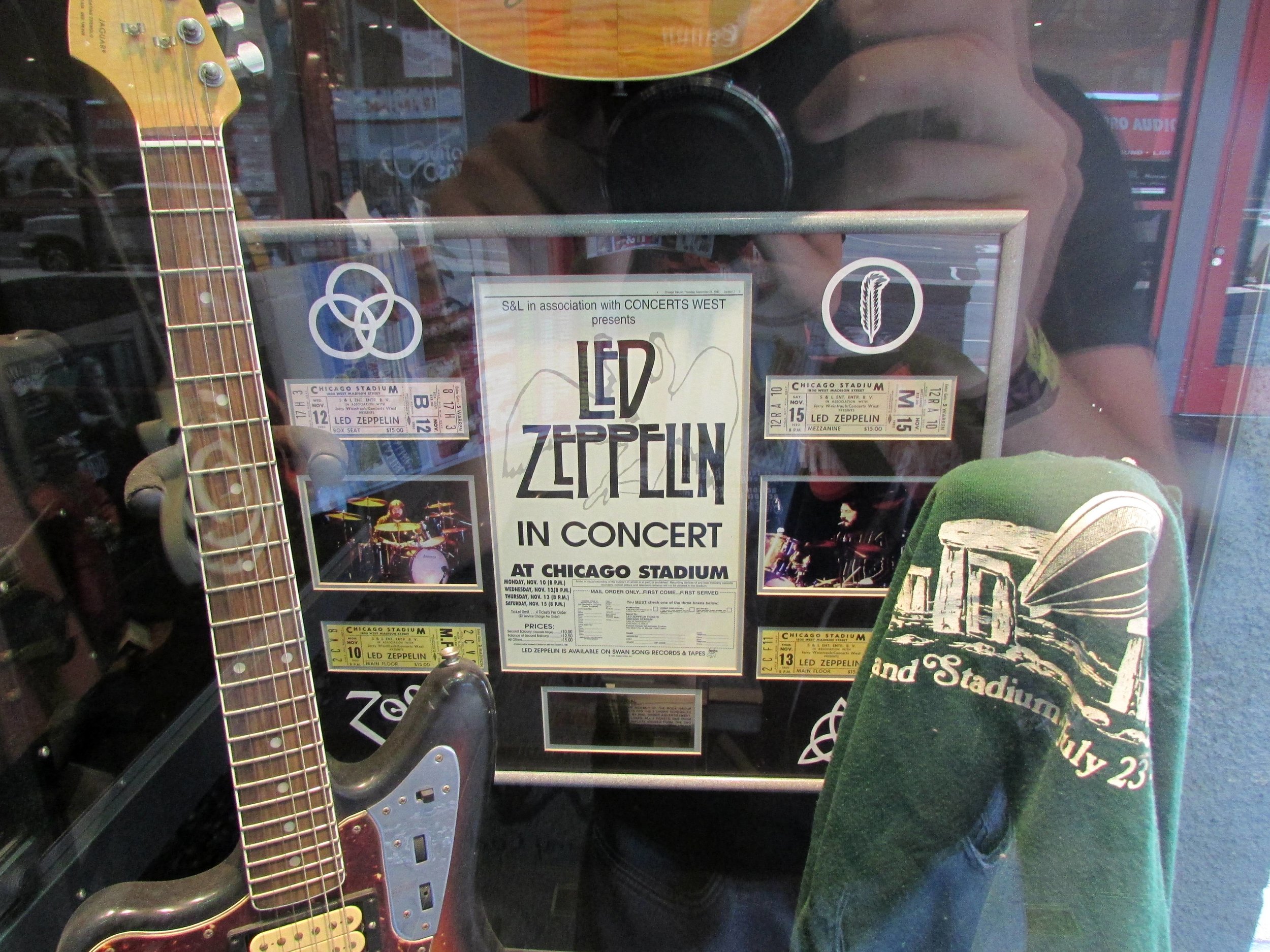 Whilst L.A. and particularly Hollywood, is known worldwide for its film industry, the tour I was on was quick to point out music landmarks and highlight the strong influence of music on the area. Other sights along the Sunset Strip included: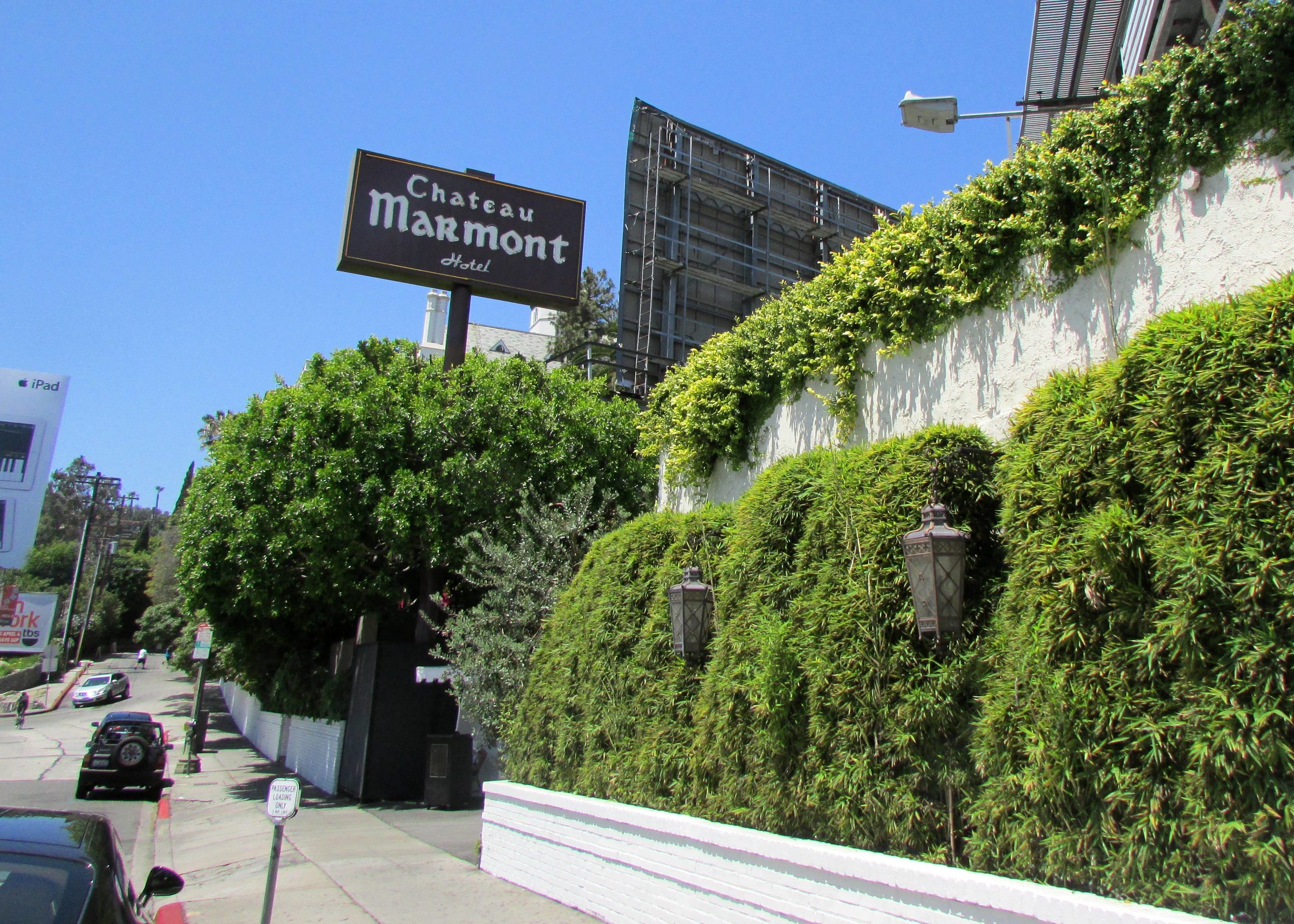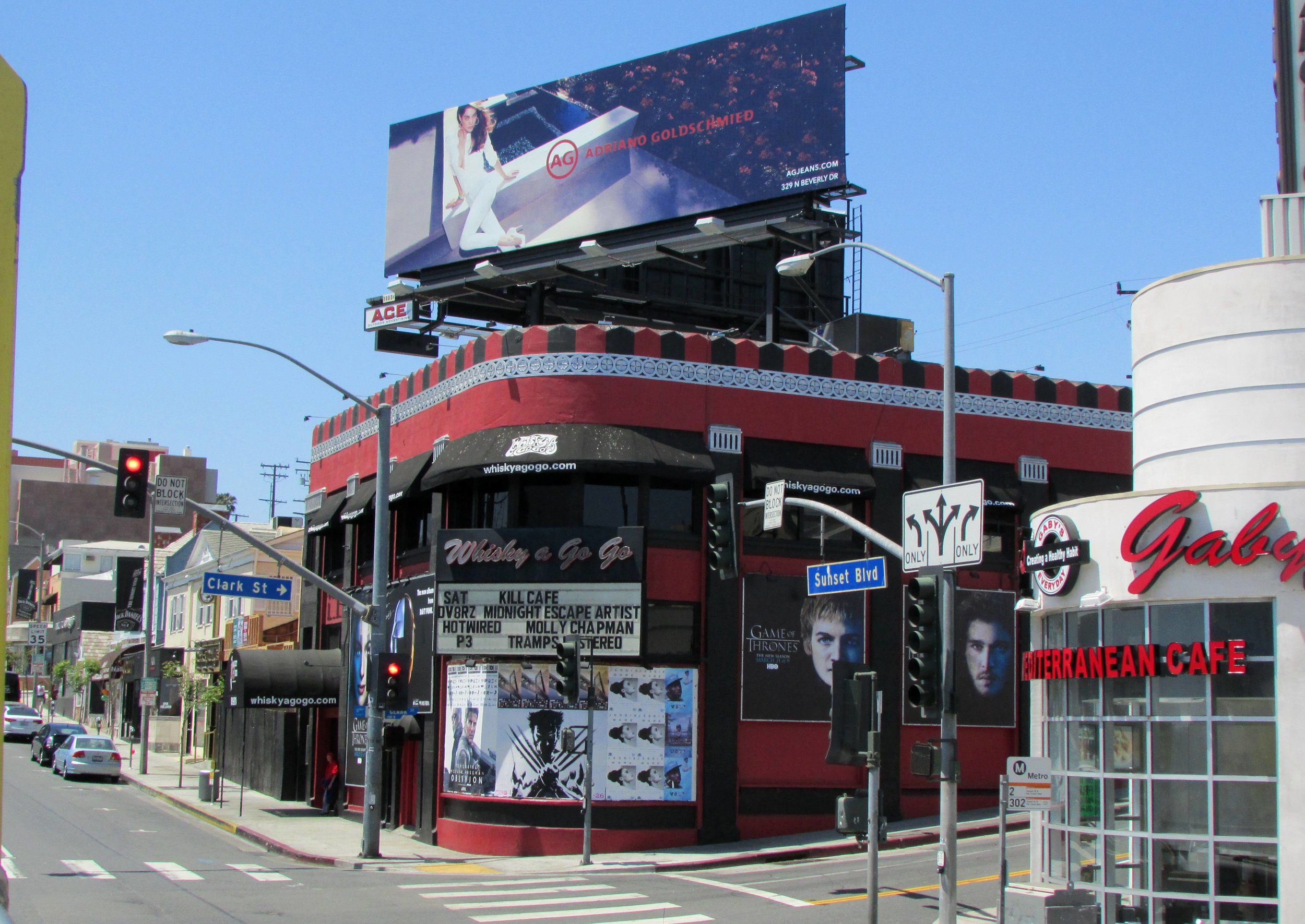 The route passed through the retreat of many a silver-screen icon, Beverly Hills, and the fashion mecca of Rodeo Drive, which had many tourists on the bus gawking at the glamour on show. I took the opportunity to transfer to the Yellow route so I could feel the sea breeze.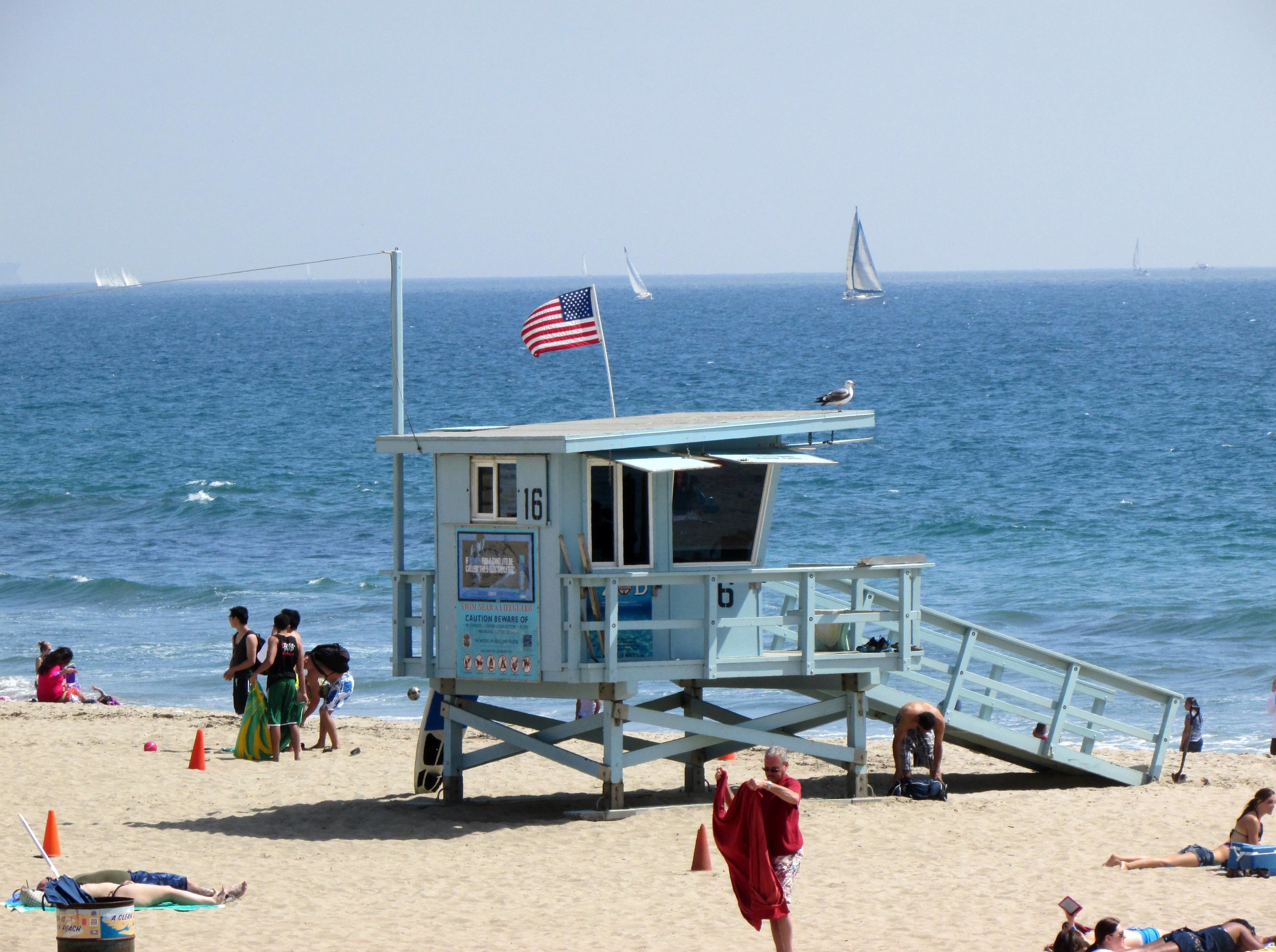 The Beach Boys began blaring through our tour-issued earphones as we cruised down Pico Boulevard through Santa Monica, before I stepped off to browse the end of America's Route 66 - Santa Monica Pier.
On a sunny Saturday afternoon in spring, the pier and its surrounding beaches were a hive of activity. Venice Beach was about 5 miles further south, and unfortunately the Green Route to there was only rolling out in the next few weeks. But I made a mental note of making a visit there the following day. Linking back to the second half of the Red route brought me back to that star-spangled stretch of road.
The Hollywood Walk of Fame has almost 2,500 stars over its 2 kilometres (with another 700 metres perpindicular to it). It celebrates not only stars of the film industry - but musicians and other entertainers too. I'm a list-maker and collector at heart, so I made it my mission to see every single star on the Walk of Fame, traipsing up and down Hollywood Boulevard obsessively - but it paid off.
As I ventured up the quieter Vine Street section, I noticed not one but all four Beatles' stars in a row. Looking up, I saw that they were outside the landmark Capital Records building (their American record label), with its distinctive circular shape and tall spike on top that makes it resemble a pile of records. With me wearing my Beatles' "Hard Day's Night" shirt that day, it was an unintended musical pilgrimage for this Beatlemaniac.
Sunday In L.A.
The high-stakes transportation game I was playing almost left me in a lurch on my journey home the night before. Missing an Amtrak train by just two minutes meant having to wait for another two-and-a-half hours for the last train east for the night. At least there was another one to catch.
Little mistakes you make as a traveler can have large unintended consequences. Not every moment of serendipity leads to fun and enjoyment, and I had learnt the hard way despite being on high alert. When your comfort zone is being forced to expand; when everything is new and unfamiliar, you need to learn to accept the good with the bad and move on - sunburnt yet smiling.
I had a flight booked out of LAX Airport that evening, so Sunday was to run on an even-tighter schedule. Armed with yesterday's experience, I aimed to fill in the gaps of what I didn't see previously, and enjoy the places that I had liked.
Venice Beach was my main port-of-call, but it required planning an extra bus ride or two. It was well worth the trek though; its quirky, interesting boardwalk was packed full of food stalls, art vendors and people just chilling out. Compared to the somewhat 'plastic' feel of Hollywood, Venice Beach felt more homely and relaxed. I enjoyed tucking into a Greek gyros (a form of wrap) under a palm tree next to the beach, watching the many weird walks of life parade past me. As a huge fan of the TV series 'Californication', I definitely recognized this place as a filming site for the show. It made the story of anti-hero Hank Moody more real in the mind's eye.
On the Starline buses, prerecorded audio takes place of an actual tour guide. I had became unexpectedly attached to the British man's voice and his overtly posh-sounding accent. He was a constant companion to this solo traveler; his little anecdotes and facts perfectly timed with each passing landmark.
Although I was repeating certain routes, I conveniently managed to be on the bus over sections where I had chosen to walk the previous day, and thus received a rounded education on the City of Angels. Music-related sights were less forecoming on Sunday, as we passed by icons of the film industry, such as Paramount Studios, 20th Century Fox Studios, and a plethora of places devoted to the arts.
The whirlwind weekend wound down to a close as I stepped off my last Starline bus at El Pueblo De Los Angeles, home of L.A.'s historic district. I felt like a 21st century explorer who had been hacking his way through the dense urban jungle.
I stood on the old plaza (which is the city's birthplace) and walked the colourful marketplace of Olvera Street, where families gathered together and children played. It was here I realised that there is a lot more to Los Angeles' history than what is produced in its more famous neighbourhoods of Hollywood and Beverly Hills. You just have to trek through the jungle to find the river's source.